If you have any information about these crimes or any person(s) involved, you are urged to call Crime Stoppers or submit a Web Tip.
Vandalism
June 22, 2017
---
Vandalism
May 29, 2017
---
Robbery
May 01, 2017
---
Counterfeit Currency
March 28, 2017
STATUS
: SOLVED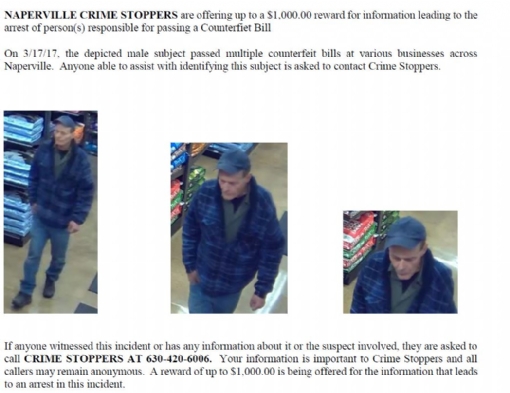 ---
Arson
March 28, 2017
---
Burglary
March 10, 2017
STATUS
: SOLVED
INFORMATION WANTED 630-420-6006
NPD report # 2017-2553
NAPERVILLE CRIME STOPPERS are offering up to a $1,000.00 reward for information leading to the arrest of person(s) responsible for a Burglary.
The Naperville Police Department is attempting to identify a suspect or suspects responsible for several burglaries to businesses located on the 1100 block of Sherman Ave on Friday, March 10th, 2017. According to alarm activity at one of the businesses the incident occurred at approximately 6:30 A.M. Small electronics and cash were stolen from the businesses.
A suspicious male, described as a white male with brown hair wearing a light colored shirt, was seen walking in the area around the time of the burglary.
If you have any information please contact CRIME STOPPERS AT 630-420-6006 or contact us through our website: www.napervillecrimestoppers.com
Your information is important to Crime Stoppers and all callers may remain anonymous. A reward of up to $1,000.00 is being offered for the information that leads to an arrest in this incident.
---
Identity Theft
February 01, 2017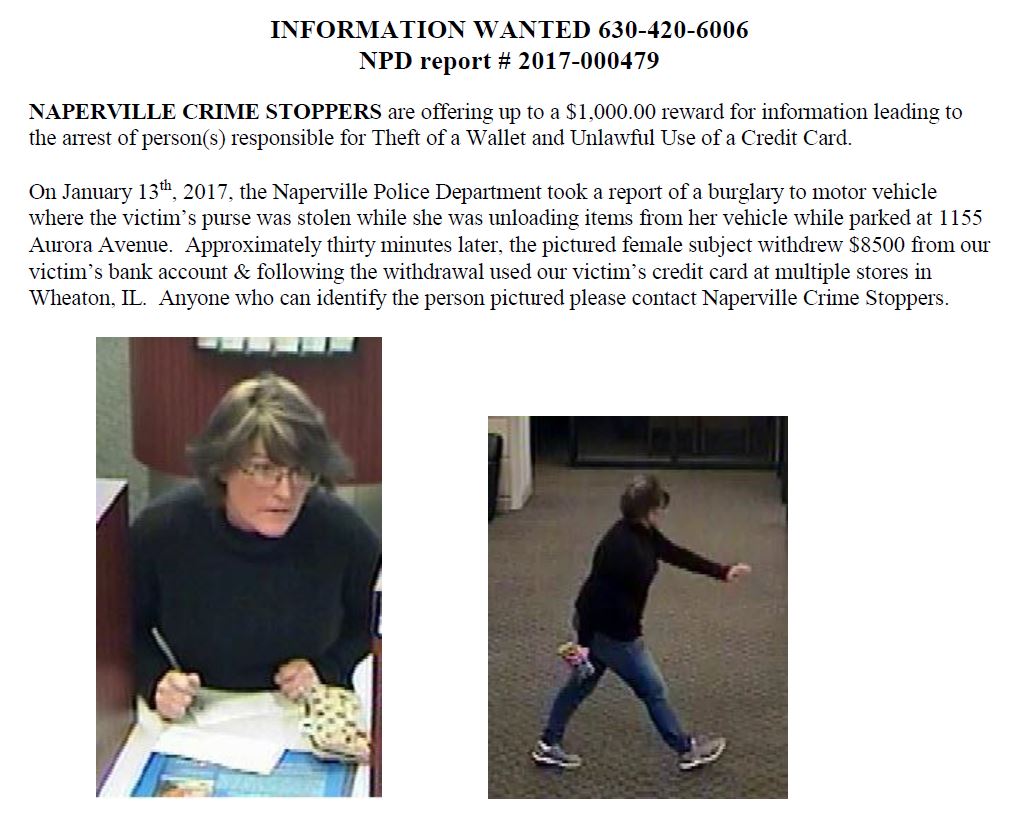 ---
Residential Burglary
February 01, 2017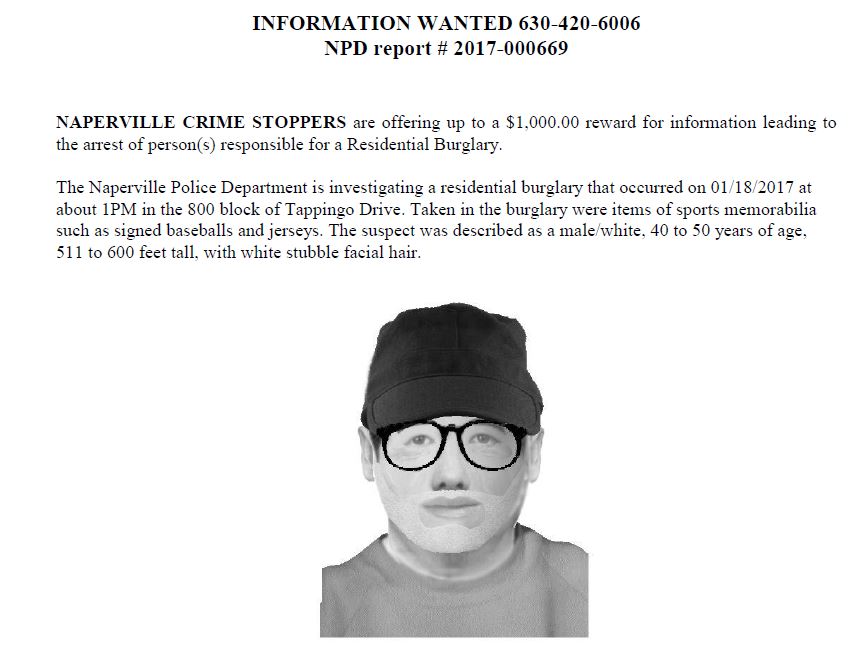 ---
Homicide
January 27, 2017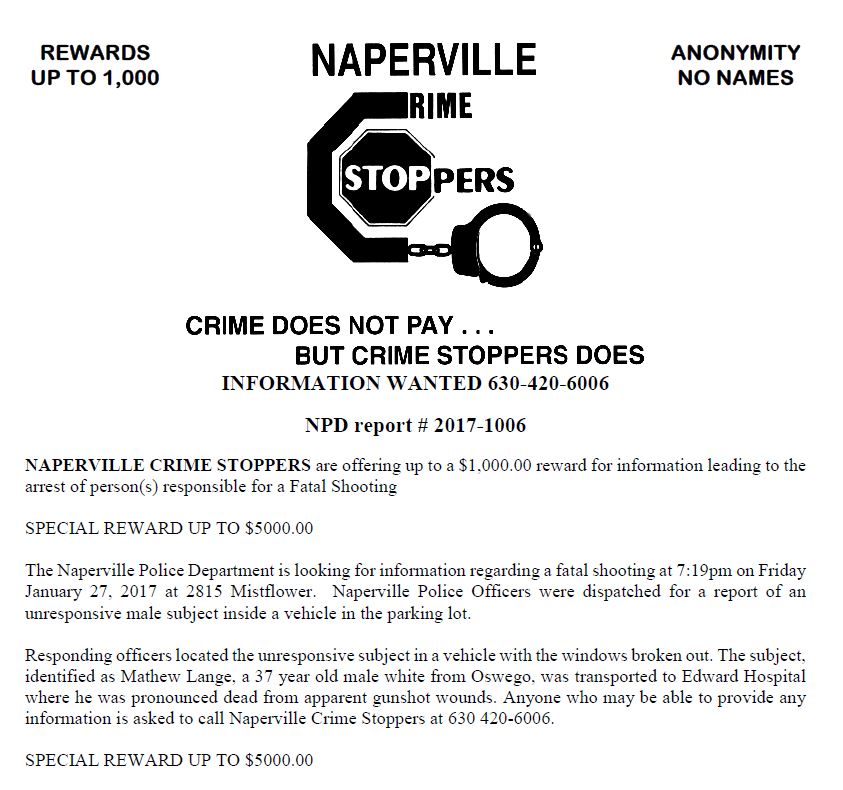 ---
Theft
January 12, 2017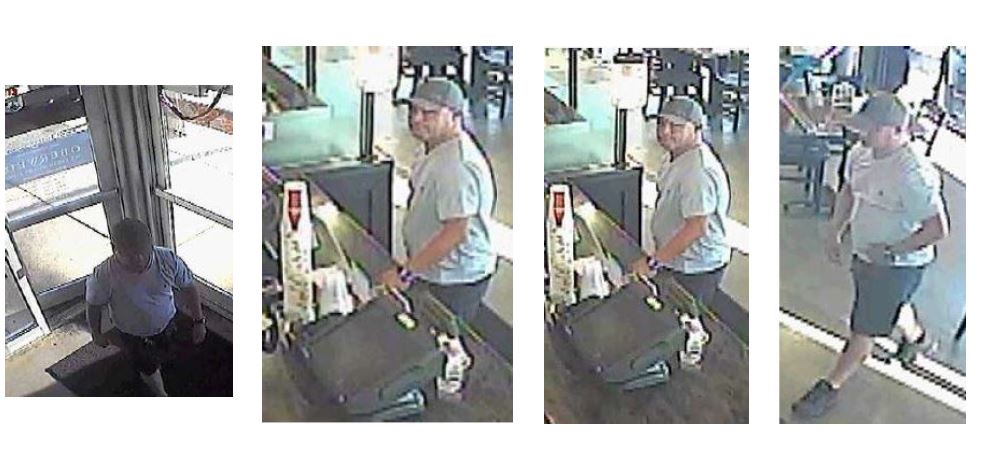 ---